COST EFFECTIVE SOLUTIONS
Scrap & Resin Material Handling
Rest assured that your blow molds will operate smoothly, time after time.
Automation Ideas specializes in scrap & resin material handling systems of all types. Whether your company needs a turnkey solution, custom fabrication, or anything in between, Automation Ideas is your one-stop shop. Our resin systems include everything you'll need up to your blow mold machines, and they are integrated with leading equipment. With an Automation Ideas resin system, you can rest assured that your blow molds will operate smoothly, time after time.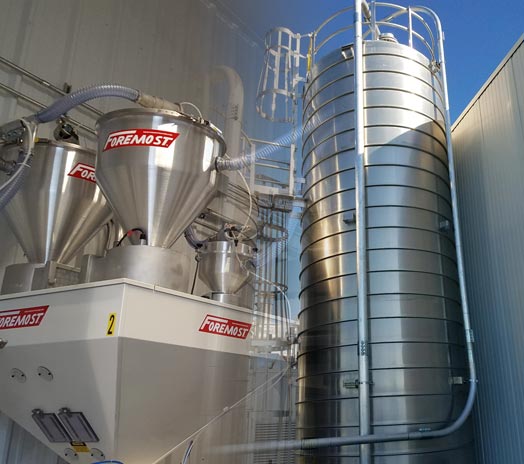 Our scrap systems are custom built to fit your exact needs. Scrap systems are designed to take scrap from bottle trimmers and carry excess materials back to regrind and recycling equipment. Depending on the needs of your facility, we either implement air duct systems or mat-top conveyor systems to transfer scrap to regrind machines. We also design scrap systems for more than just plastic waste. Byproduct waste materials from beverage production, such as beer and juice drinks are prime examples of where our scrap systems are commonly used.
CUSTOM TURNKEY SOLUTIONS
Scrap & Resin Handling
Everything you'll need for your blow mold machines.
Scrap & Resin Material Handling from Automation Ideas
If you are interested in our scrap or resin material handling systems, or would like to learn more about any of our other conveyors, please contact us here or give our dedicated support team a call at (616) 874-4041.
Related Equipment
OPTIMIZING YOUR EFFICIENCY
Improving your workflow to help minimize downtime in your business!