AUTOMATIC & SEMIAUTOMATIC
Bagging & Debagging Equipment
Streamline your factory floor operations with our field-proven equipment.
Baggers and debaggers from Automation Ideas bottles into sanitary and heat-sealed plastic packages that are easy to handle and store. They are also capable of accommodating a wide range of different containers and package sizes.
At Automation Ideas, we manufacture cable conveyor systems that can vary in height and width to accommodate any container configurations. Typically suspended from the ceiling, these conveyor systems are a very cost-effective way to move containers throughout your facility while controlling accumulation and surge.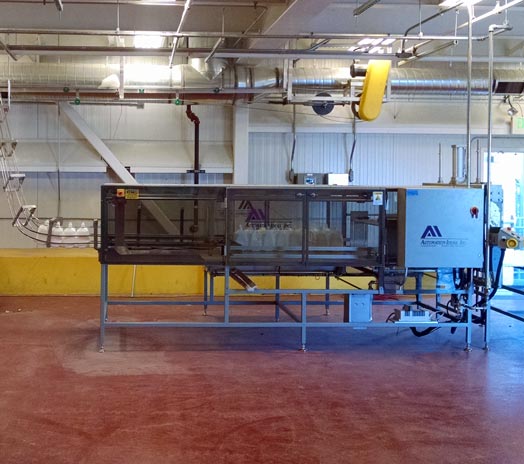 FEATURES & COMPONENTS
Baggers & Debaggers
Industry leading engineered designs to assist with your container handling needs.
Common components include:
Dividers and Combiners (PLC Controls)
Eagle Belt Inclines
Cable Splicing
Air Elevators with Pushers
Rod Chutes
Baggers & Debaggers from Automation Ideas
If you are interested in an automatic or semiautomatic bagger and/or debagger, or would like to learn more about any of our other equipment, please contact us here or give our dedicated support team a call at (616) 874-4041.
Related Equipment
OPTIMIZING YOUR EFFICIENCY
Synchronizing your processes to help minimize downtime in your business!