CONVEYING YOUR PRODUCTS
Table Top Conveyors
An excellent solution to conveyor products of any shape and size.
Automations Ideas table top conveyor systems offer a versatile design making it a much sought after conveyor system capable of handling a wide range of products at high-speeds. Our conveyors have many different options and we can customize to your unique application. We can integrate all sorts of equipment on a production line like leak detectors, vision systems, labelers, filling machines, and much more.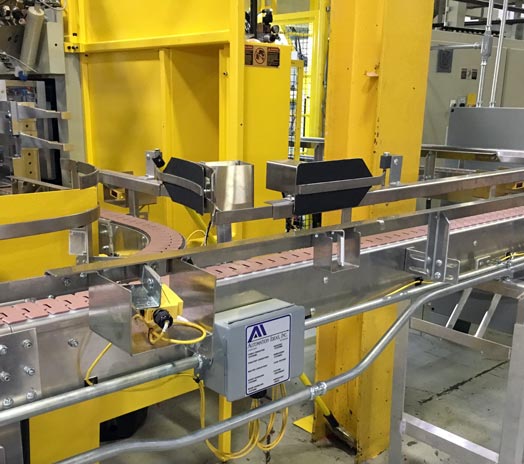 Our tabletop conveyor systems are an excellent solution for cans, bottles, containers, jars, glass bottles, , cases, boxes, and much more.
PRODUCT INSPECTION TO CONTAINER FILLING
Table Top Conveyor Systems
Wide variety of industries, which include beverage, pharmaceutical & chemicals.
Aluminum, Stainless Steel, or Painted Steel Construction
Washdown Construction
Available Conveyor Widths: 3.25", 4.5", 7.5", 10", 12"
Vacuum Assist
"Smart System" Controls Package
Panel view Controls – Screen Upgrades
Monitor Entire Conveyor System
iPhone or iPad App Software
Ethernet or Device Net Connectivity
Different Voltage Options Available
Many different conveyor chain styles available
Fixed or adjustable rails – double or single
Automatic adjustable rails
Combiner and divider controls
Table Top Conveyor Systems from Automation Ideas
If you are interested in our table top conveyor systems, or would like to learn more about any of our other conveyors, please contact us here or give our dedicated support team a call at (616) 874-4041.
Related Equipment
OPTIMIZING YOUR EFFICIENCY
Improving your workflow to help minimize downtime in your business!