CONTAINER MANUFACTURING - BULK STORAGE
Bottle Bin Storage Systems
Fully automated and are able to handle throughput rates exceeding 400 bottles per minute.
Automation Ideas is a leading provider of bulk bin storage systems for container manufacturers. If your company produces small bottles, and stores them until it's time to fill, then a bin storage system may be perfect for you. Bottle Bin storage eliminates the need for baggers and debaggers or palletizers and depalletizers that are generally needed for reintroducing containers.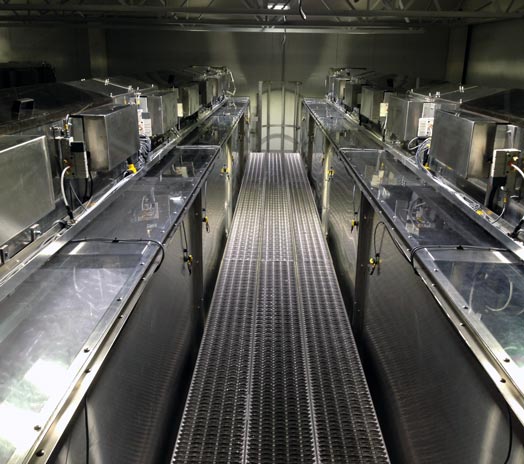 Stationary or Mobile Bin Storage Designs
Bin Storage can be built as stationary or mobile systems. Stationary systems are much larger and require a room large enough for the desired amount of storage. Mobile systems fill up totes on casters and operators can wheel them around. This is a great method if your facility doesn't have adequate space for stationary.
AUTOMATE FILLING LINES
Bulk Bottle Bin Storage Conveyor Systems
Integrates seamlessly with your existing filling line process
Each type of bin system easily integrates with operation. Bottles will be discharged in a tumbled bulk manner and will be conveyed mass flow to an orientation and stand up machine. Once connected, our conveyor systems are fully automated and able to handle rates exceeding 400 bottles per minute.
Bin Storage Systems from Automation Ideas
If you are interested in our bin storage systems, or would like to learn more about any of our other conveyors, please contact us here or give our dedicated support team a call at (616) 874-4041.
Related Equipment
OPTIMIZING YOUR EFFICIENCY
Improving your workflow to help minimize downtime in your business!