CONTAINER HANDLING
Side Grip Conveyors
The absolute best option for rapidly changing products conveyor elevations.
Automation Ideas high-quality side grip elevators and lowerators are the best ways to handle containers of all shapes and sizes. Side grip conveyors take up a small amount of space and are ideal for a range of applications including changing line elevations, date coding or inspecting bottom of containers, inverting bottles, gap transfers, and much more.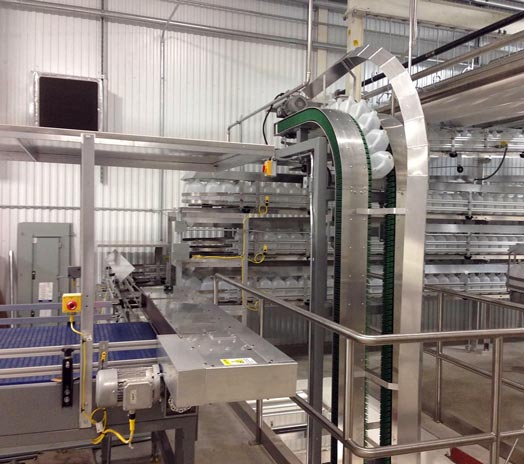 SIDE GRIP CONVEYORS IMPROVE
ELIMINATE CONTAINER ORIENTATION PROBLEMS
Side Grip Conveyor Systems
Among the best ways to handle containers of all shapes, sizes, and materials.
Empty or Full Product Designs
Painted Steel or Stainless Steel frame construction
Aluminum or Stainless Steel Conveyor body
Complete Lexan machine guarding
Fixed or Adjustable width conveyor – 6" adjustable range
Gripper chain size for small or large containers
Gripper chain inserts – Soft jaw gentle grip for bottles or D style for boxes
Can be integrated into conveyor system motor control panel
Easy mounting for the entrance and exit conveyors
Side Grip Conveyors from Automation Ideas
If you are interested in our side grip conveyor systems, or would like to learn more about any of our other conveyors, please contact us here or give our dedicated support team a call at (616) 874-4041.
Related Equipment
OPTIMIZING YOUR EFFICIENCY
Improving your workflow to help minimize downtime in your business!