COMBINE REGRIND & VIRGIN RESIN
Resin Blender Systems
Improves your bottom line and reduces production inefficiencies.
Is your business in need of a cost-effective way to reintroduce scrap material into your blow mold process for an even blend? The resin blender systems that can help these businesses become more efficient. Resin blenders are an automated conveyor system that is used for combining regrind and virgin resin.
engineers at Automation Ideas helps manufacturing and industrial companies install and integrate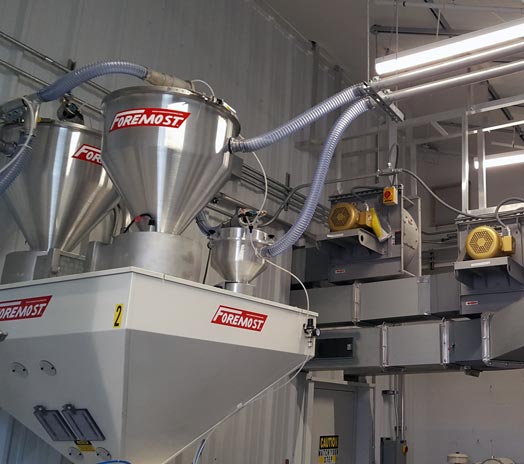 A Resin Blender System can provide the following benefits:
Improves Your Bottom Line – Makes the most out of your resin investment by evenly blending your regrind with virgin pellets for reintroduction to your blow molder.
Reduces Production Inefficiencies – Consistently blends materials for optimal bottle production.
Part of a Total Solution – Can be integrated with scrap and resin handling systems from Automation Ideas to maintain your workflow at continuous peak efficiency.
FEATURES & COMPONENTS
Resin Blender Systems
Industry leading engineered designs to assist with your container handling needs.
Optional features
Additional resin or regrind bin storage
Resin color feeder
Voltage options
Extension for virgin and regrind hoppers
Resin Blender Systems from Automation Ideas
If you are interested in our resin blender systems, or would like to learn more about any of our other equipment, please contact us here or give our dedicated support team a call at (616) 874-4041.
Related Equipment
OPTIMIZING YOUR EFFICIENCY
Synchronizing your processes to help minimize downtime in your business!